An unit: Boiler and high temperature burner
This comfortable and abiding heating system is being up to every crisis.
Wood chips burn in the high temperature burner being fed by primary and secondary air at a temperature of 1200°C.
The heat is being stored by a mantel of high valuable fire cement.
Because of a multilayered insulating bed the radiation is reduced to a minimum. Highest comfort is offered by automatic ignition and deashing.
The boiler shows less signs of wear than with other heating systems, because the wood chips are already burned in the high temperature burner. Therefore maintenance-free operation is possible for a long period.
The flame burns into the boiler, where the exchange of heat is taking place. The boiler stays clean and at the same time can be operated by hand with wood pieces.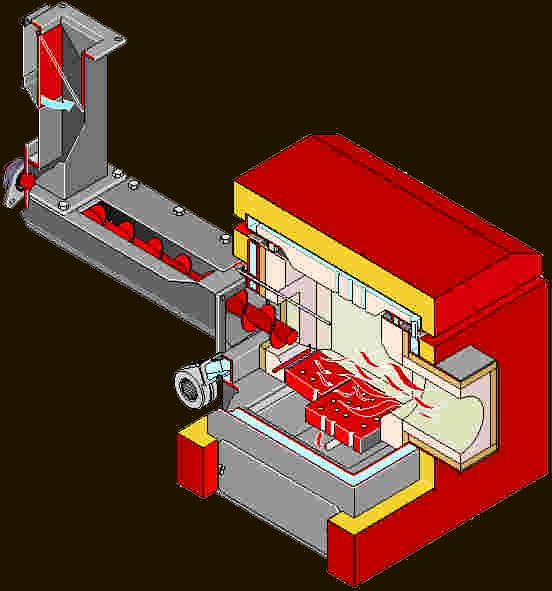 Technical Data
 
Wood chips heater type ATVV
Consists of boiler and high temperature burner
Fuel: Energy wood chips G 30 W 20 ÖNORM M7133
 
 
 
 
 
 
Boiler - heat exchanger
 
 
 
 
 
Heating output
30 KW
40 KW
50 KW
60 KW
76 KW
Boiler
 
 
 
 
 
Width
63 cm
77 cm
77 cm
77 cm 
77 cm
Depth
88 cm
88 cm
88 cm
101 cm
101 cm
Height
98 cm
108 cm
108 cm
123 cm
123 cm
Weight
450 kg
540 kg
560 kg
640 kg
660 kg
Forward and return motion
5/4"
5/4"
5/4"
6/4"
6/4"
Boiler tube plug
18 Ø
18 Ø
18 Ø
22 Ø
22 Ø
Operating temperature
90°C
90°C
90°C
90°C
90°C
Operating pressure
2,5 bar
2,5 bar
2,5 bar
2,5 bar
2,5 bar
 
 
 
 
 
 
 
 
 
 
 
 
High temperature burner       30 KW  up to 76 KW
Width
99 cm
99 cm
99 cm
99 cm
99 cm
Depth
70 cm
70 cm
70 cm
70 cm
70 cm
Height 
84 cm
84 cm
84 cm
84 cm
84 cm
 
 
 
 
 
 
Electrical connection
 
 
 
 
 
Voltage
230 + 380
230 + 380
230 + 380
230 + 380
230 + 380
A
16
16
16
16
16
KW
3,5 KW
3,5 KW
3,5 KW
3,5 KW
3,5 KW


T R O P E N G L U T      W O O D     -     C H I P S     -     H E A T E R